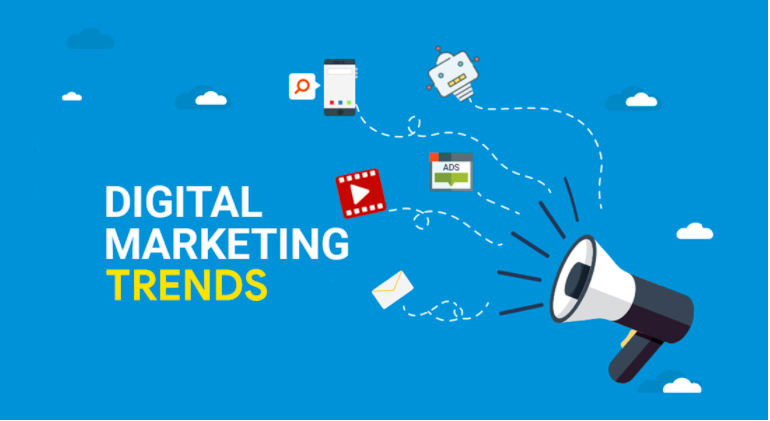 "Ignoring digital marketing is like playing in an Olympic without any training"
There is like no one who doesn't have a mobile phone or no one using social media these days. It is a golden opportunity to connect more customers especially the youth and teenage.
What is digital marketing?
Digital marketing or online marketing is one of the ways of promoting brands to attract potential customers with the usage of the internet. Nowadays, Social media tools becomes the fastest-growing platforms. Beginners can also learn Digital marketing easily.
Smart businesses are looking for the latest trends to maximize their results and earning profits.
Here are some of the latest digital marketing trends which can be important to grow your business.
Digital Marketing Trends for 2023
1. Change your SEO with Google Changes
In 2023, there is everything on SERP that is required by users. It's like providing valuable information which is searched by users to add value to their knowledge. There is much more to SERP rather than just selling products and services.
If you are handling the SEO of your brand, focus more on creating valuable content rather than increasing brand sales. If users love your content, then ultimately it will create brand awareness in them.
2. AI Generation – ChatGPT Revolution
Artificial Intelligence is growing very rapidly in digital marketing.
As we are talking about AI, how can we forget to mention ChatGPT here? ChatGPT is the biggest buzz in this matter. ChatGPT will work on your commands as a student follow their teacher or a kid follows their parent's commands.
ChatGPT can create high-quality content according to the taste preference of your target audiences. It can help you to create content and ultimately rank on SERP.
3. The Metaverse
The metaverse is becoming an important trend in digital marketing.
Just imagine a virtual world where people can live, talk, walk, shop, and most importantly all these can happen from sitting on their couches in the physical world.
To understand the metaverse, you should know about the metaverse and the audiences of it.
It is the merging of the physical and virtual worlds. In the metaverse, people are represented as their avatars, a digital version of themselves.
4. The wave of influencer Marketing
I am sure you are also following your ideals or favorite actors on social media. The person with the high number of followers is represented as an influencer. They are getting paid for the promotion of brands on their feeds.
But everyone knows about this so no one easily believes everything which is shown on their feeds.Social media influencers are becoming a new way of life. They should have knowledge of social engagement and how to gain more followers.
5. Customer Experience
In digital marketing, the customer experience becomes essential. In traditional marketing where customers can review your products through word of mouth.
But in digital marketing, each and every comment, dislike and likes becomes essential. Every other person on social media can see these comments and it will create a huge impact on brand building. One bad comment will lead to a bad customer experience.
6.Gen Z
Finally, we are at the main course of these full platters. Gen Z is the biggest trend in digital marketing. Gen Z is becoming adults.
They will be the biggest target audience for most of the brands. They are social media users so digital marketing trends will be at their peak. Millennials' online shopping behaviors differ from Gen Z.
7.LinkedIn
The audience on LinkedIn is growing rapidly from 2015 to 2022. Many companies can find potential customers on LinkedIn platforms. LinkedIn is a professional platform where you can easily promote your brand.
What should you do now?
Build your brand profile on LinkedIn. Grow your business, and increase your connections. Be aware everyone about your brand.
8. Short Videos:
There is no question why this format is becoming the attractive way. Short videos are trending nowadays. It is attracting not only youths but elders too. Short videos like YouTube Shorts and Instagram reels are in trend.
If you are not active in this format so let's, get up and tie up your shoes because it's time for this trend. Watch the reels and short videos to get an idea about content, appeal, and format.
Influencer marketing is part of short videos. Influencers with high followers make the short video or reel about the usage of products and it makes them attractive for customers.
CONCLUSION:
You are living your life following the trend, aren't you?
So it is also important for your business especially when it comes to digital marketing. Here are the ideas through which you can reach out to your current as well as potential customers by following trends.