It does not matter what kind of a Business you own or where you own it. As long as you are able to reach your target audience, it always works for your as well as your business' benefit.
Today, when every little thing from big to small has become digital, not having an online presence for your business just does not make sense. If you want to survive in the ever rapidly growing world or new innovations and technology, being able to walk with it really reaps a whole lot of fruits at the end of the day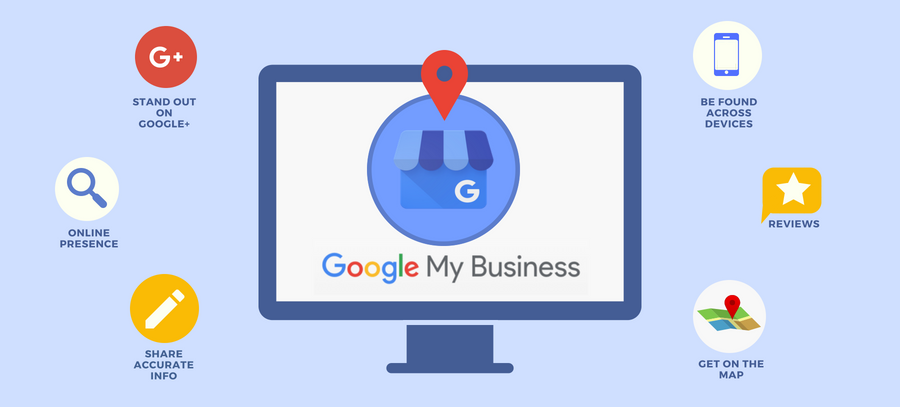 Hence, similarly, when we talk about online presence and business, the discussion just cannot start and neither end, without bringing 'Google My Business' into the greater picture. This is one tool or service provided by the tech giant Google, which is sure to give your business the boost it so much requires in order to reach its target audience from all over the world, both far and near. As long as your desired target audience is connected to the Internet, your product, business, or service is sure to pop up on their screen and grab their attention
Why is Google My Business a necessary tool to grow your business?
As I had mentioned earlier, simply having a business in the physical world in a more conventional sense today makes it practically impossible for a business to survive. With new businesses coming up every day and new products being released in the market just as we speak has made it just a really difficult job to stand out of the crowd simply by letting your business and product stand there in the physical realm.
You as well as your business definitely need to go online. How do you do it? Simply, Sign Up for a Google My Business account and set up your business presence online. It is more or less giving your physical business an online identity. An identity with which you can actually reach out to the audience and the audience reach out to you. 
To simply put it, once you have your Google My Business profile set up and running, anyone from the Internet can see your business information automatically without you having to actually be there. From your address to your contact information to your opening hours. You can have it all ready for your audience to access and connect with you.
And the best part about Google My Business is that both the signing up for a My Business account as well as the various tools provided inside your My Business account does not cost a single penny and is absolutely free. However, if you are planning to run 'ads' for your product, then you will need to spend a few bucks here and there to be able to run a successful ad campaign for your product to reach your target specific audience.
Tools that will enhance Google My Business
Simply, opening up a My Business account and listing your information for people to see will not do the trick. It is true that your online presence gets more or less established by simply creating a My Business account and listing your information there. But, simply just staying there without any work will probably not help you sell.
In order to sell your business and product, you definitely will need to put in some effort, just like you would do in any other traditional business.
And to do it, you definitely will need some tools which Google as a whole has to offer in the form of Google Suite. With these tools, your business is sure to get the edge it needs in order to shine among its peers and the cut-throat competition out there, both in the physical as well as the digital world.
Let us thus have a look at all the various tools in detail that both Google My Business, as well as Google Suite, has to offer for you to help grow your business and turn it successful.
Google Ads
You can use this tool to run ad campaigns for your business and products, both on search results as well as third-party websites out there running Google's Adsense. This tool helps you and your business reach your target audience out there and help convert them into potential customers.
Google Reviews
Now we all know the importance of reviews for a business. The more positive the reviews, the more trust a business or product is able to build. However, if your business draws negative reviews, even then there is nothing to be disappointed there as well. This is because, be it any reviews, the answer simply lies in how you interact with such reviews.
The more you interact with your customer's feed and try to make them feel listened to, the more they feel cared for. And who does not like being pampered? You have to make your audience feel like they are the king and trust me they will make you as well as your business feel the same, given that you listen to their feed and try to improve accordingly of course.
Keyword Planner
Another very strong and awesome tool provided by the Google Suite collection is your Keyword planner. This tool has the ability to give you just what you need to get started with your SEO journey.
I will of course not get into the details of Keyword Planners and Keyword Planning here as it is a separate niche on its own altogether and will leave it for some other day. But, one thing is for sure that if you are planning to become number one in your particular niche, then Keyword Planning is your first step to it.
Google Analytics
Just simply planning your content will not be enough, if you want to find your edge to excel. With correct planning, you will certainly need to analyze your plan and strategy as well. And with Google Analytics you will be able to do just that.
Where Keyword Planner allows you to strategize your content to help you rank your website better, Google Analytics on the other hand lets you understand and measure what is going on right and what might be going wrong with your strategy. And depending upon the conclusions you draw out of the results you analyze, you can take necessary measures to improve your strategy as well as your next move.