In the following article, we will not only talk about the key differences between SEM and SEO but also talk about almost everything important there is to know about the two topics and how they work as well as complement each other to reap benefits for you as well as your websites.
So, before we head to the part where we straight away talk about the difference. Let us first have a look at what both SEM and SEO actually are and why it is so important. If however, you feel like you already know about what both the topics are and what they do, then you can straight away head to the part where we will be discussing the key differences between the two.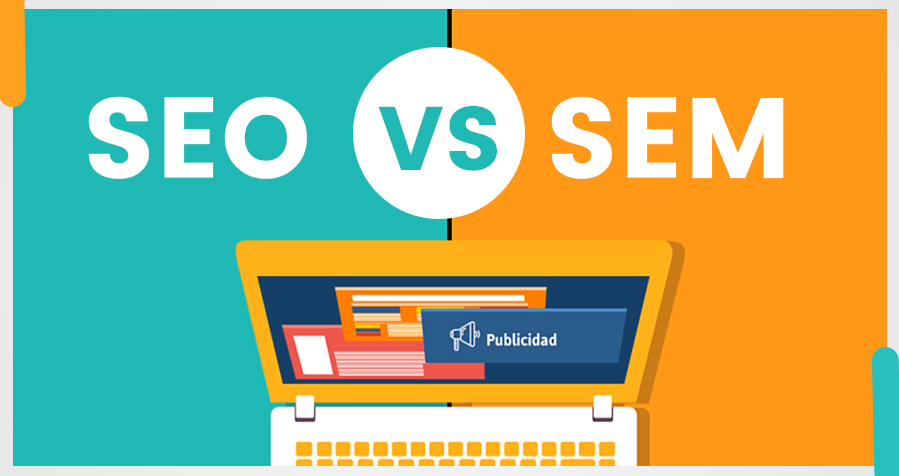 What is SEO & How does SEO work?
Even if you are someone who is completely new to the world of Digital Marketing, the term 'SEO' is something you are sure to have come across at least once.
The term SEO basically stands for 'Search Engine Optimization which you can literally translate to the process of optimizing your particular website in such a way that it is just perfect for your Search Engine bots to crawl upon and rank. Hence, in short, the stronger your SEO on your website, the more chances it has to get ranked up 'organically'.
Now, the reason why I have added the term organically at the end has quite the importance when we are dealing with Digital Marketing and SEO.
Also Read:- Email Marketing Tips
Let me explain how.
In the world of SEO and Digital Marketing, the term organic is mainly used to refer to that traffic out there that finds its way automatically to your website and content without you having to put in any extra effort on marketing here and there.
This is because when 'search-engine bots', also known as web crawlers, go to your particular website and crawl over your website, in addition to checking whether your content is valid or not also looks into whether it will be able to attract the desired traffic or not. Once, the results retrieved by the bots meet the standards of the various parameters set by popular search engines out there. Then your website gets automatically ranked depending on how good the material of your content is and how well it has been presented for the end-users to see.
And thus in short, SEO may be used to define those early procedures such as preparing quality content, taking into consideration User Experience, and building healthy Link Patterns for your website to attract organic traffic on its own and start ranking upwards as well.
What is SEM and how does SEM work?
Now that we have seen what SEO stands for as well as what and how it works. Let us next have a look at what SEM is and how it works in order to bring your website or business the traffic it so much deserves and desires.
SEM basically stands for 'Search Engine Marketing'. And as you might have already noticed, one of the major differences between SEO and SEM is its suffix, where one stands for Optimization whereas the other stands for Marketing.
Now, when we say Marketing, it should automatically ring a bell inside you that says you need to sell the product by going to your end-users. You just can't have your business opened up in a corner and have your customers show up on their own.
In order to take your product up to your customers and vice versa, you will need to implement a whole load of tactics such as distributing pamphlets, putting up big ad banners, asking friends and families to spread the news and so on. And although, all the above tactics primarily revolve around more conventional marketing strategies. In the case of Digital Marketing to it's quite a similar ball.
When it comes to Digital Marketing, SEM is probably the very first thing or first step you need to take on your journey forward to market your website as well as your business well in front of so many potential end-users.
Even in the case of SEM, just like in the case of any other conventional marketing tactic the use of a little sum of money in order to promote your business or website in the case of Digital Marketing will always be there.
Search Engine Marketing consists mainly of strategies, methods or tools which generally involve paid advertisement or paid promotion in order to make your business, as well as your content, reach your desired audience. 
One of the most popular examples of SEM-based advertising tactics may be Targeted ad campaigns which are run on Search Engines or different types of third-party websites to promote your website or business to users who view that particular website or search for a particular keyword you have run an ad campaign for.
There are other similar kinds of activities as well and is a whole big ocean of niche on its own, thus will leave it for some other day to come.
Also Read :- Is PPC the perfect marketing strategy?
Difference between SEM and SEO
Finally, after having learned and understood a few important things about both SEM and SEO. Now, I believe it is time for us to dive into the part where we discuss all the key differences between SEM and SEO and how they might work hand in hand to complement each other to bring the very best of results.
Now, before we start with the difference it is very important to note that in most cases SEM may be seen as the superset of all the Digital Marketing approaches. Being said that, even SEO too might be something which you can represent as a subset of SEM more or less. Hence, in most cases, you will tend to find approaches from both the methods that overlap each other as well as quite similar to each other at a more fundamental level.
SEM as has been already been mentioned earlier is more or less an approach where you will need to invest some sort of capital at first. This is because activities like running ad campaigns, using tools to research on targetable keywords, and even social media campaigns can all be considered to be a part of the SEM approach, where the more capital money you can invest, the better the results.
SEO however on the other hand works primarily on a content-centric approach. Here you will need to focus mainly on strategizing your content rather than focusing on the advertisement. With SEO the thing you will mainly need to keep in mind is optimization. Optimization can be of the content you are writing for your readers to see, the design of your website, how user-friendly your website is, and most importantly how responsive your website is as well as how browser-friendly you website can be. All this can be considered some of the key elements in SEO were depending upon how much optimization you do on your website, the possibility of it getting organic traffic as well as gaining ranks up on search engines is decided upon.