Imagine, you want to learn drawing then you must have some knowledge about the tools and materials you will have to purchase to start it.
The same thing goes for digital marketing. For a successful digital marketing strategy, you should have knowledge about the tools.
These tools are helpful in running and maintaining businesses digitally. After facing challenges in the previous year, we should plan for this year to overcome those challenges according to digital marketing trends. 
So, Let's understand tools for digital marketing.
8 BEST DIGITAL MARKETING TOOLS
1.Google Analytics: 
Google Analytics is the most important tool. It is a completely free tool. It gives data about who visits your website and through which sources they are landed on your website.
It's like the cherry on the cake if it is connected to the Google search console. It is again a free tool. It helps you to identify the problems on your site and drive more traffic to it.
It provides you the information like the number of users on your page in a day, week, or month, whether it is from the organic or paid way, their demographics and interests, the keywords people are using, the total time spent by users on your website, etc. It is all about insights but not just analytics.
2. Mailchimp:
Email marketing is like oxygen for businesses whether it is a small or large organization. If any user provides or signs up on your site using their mail id that means he or she is giving permission to shoot mails to their inboxes.
If you want to start email marketing, then you need one server which handles your email list, your promotion emails, the dates, and everything.
Mailchimp is the best choice for your small business. Mailchimp is free until your list hits 2000 subscribers. In short, it helps you with everything that you needed to do email marketing.
3. Hootsuite:
In this era of digitalization, you must have social media presence in order to be competitive in the market. Luckily, you have some tools for maintaining your social media presence to save your time, and here it comes Hootsuite.
Hootsuite is the platform that controls all your social media posts. You can also schedule a post on different social media platforms. It is like a one-stop solution.
4.BuzzSumo:
Your content strategy should be strong. Make sure you think from the viewpoint of your users. Content is like a key that opens the doors to success in the field of digital marketing. So, for making successful content, BuzzSumo is the best tool for it.
BuzzSumo is the platform that shows all the content which is now trending on all social media platforms.
You can also check the reports whether the content is attractive for your users or not. From this, you can create content accordingly.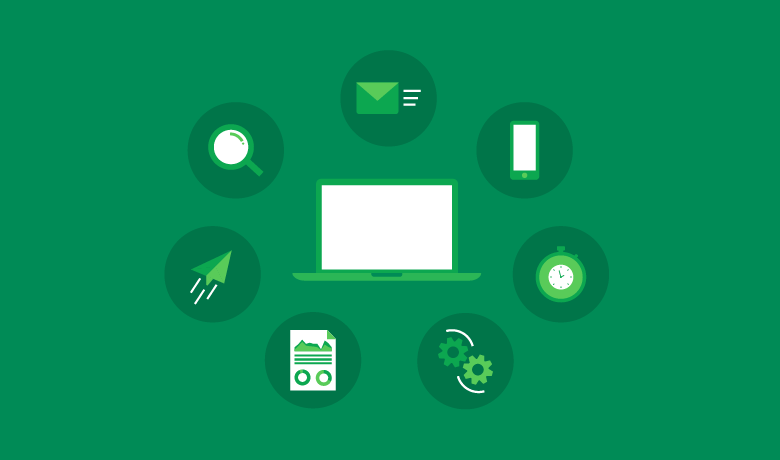 5. KWFinder:
KWFinder is used for keyword research. Keyword research is most important for writing a content.
KWFinder uses to find keywords that you can easily rank for. You can select the keywords that have low SEO difficulty and high search volume, there is no such a big science to choose a keyword.
With the help of KWFinder, you can also check historical data with the search volumes. Identify the hot topics and seasonal keywords that are now in trend.
Timing is the key to keyword analysis!!
6. HubSpot:
When you are running multiple campaigns, then it is very difficult to maintain and look out the process of all campaigns. You have to manage all the campaigns on multiple platforms.
It is where the HubSpot is came. It is the software solution through which you can bring multiple marketing channels in one place and optimize more traffic.
HubSpot includes services like email templets, analytics, social media management, lead management.
7. Canva:
In this century, you have to create something that grabs attention of audience.
Instead of using simple pics, you can just use graphics and animation with attention seeker quotes you can attract.
Canva is a multi-national graphic design platform. It is used to prepare social media graphics and presentations. You can create social media posts, edit images, templets and everything.
8. Slack:
The success behind every digital marketing campaign, the communication between different teams is important. That is why you should be aware about the software which can provide the solution for this difficulty.
Slack is one of the most popular software for communication. Through easy data sharing and message search options, it has won hearts of many digital marketers. It gives flexibility about when can you work, when and how.
CONCLUSION:
It is like the dinner platter, you have to drink hot soup if you want to taste some spicy. You have to take sweets if you want to make sweet tooth.
It's the same. here in this blog, we have given you the platter with different tools. Now it's your time to use the tools according to your preference.